Nurse Burnout Is a Major Risk to U.S. Health Care System
---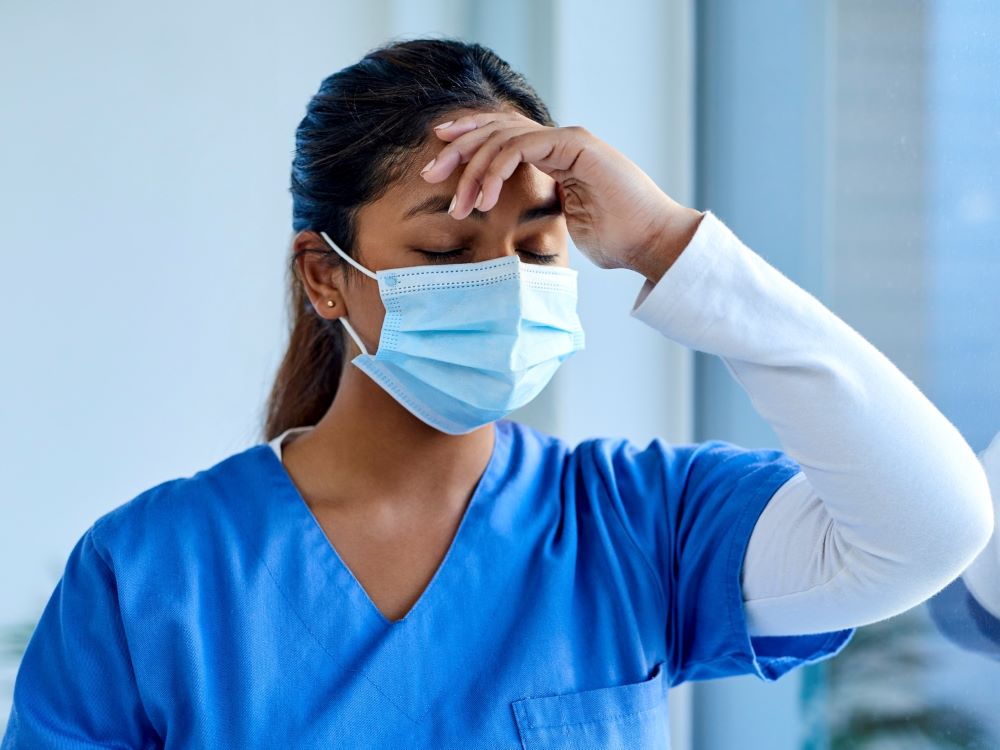 "Even before the pandemic, almost one-third of nurses left their job due to burnout. Over 90% of nurses are women and a majority are under age 50 with competing demands for their time, including perhaps raising a family. This speaks volumes about how we support women. If we want to think about how we keep nurses employed and enjoying their work and women in the workforce, these issues of burnout are important to address," says Dr. Megha Shah.
In the United States (U.S.), nurses make up the largest proportion of our health care workforce and are a critical component to the success of our health care system. Nurses bring forth a diverse skillset, such as providing direct care to patients, implementing preventative health care treatments, and completing necessary hospital administrative tasks. Previous increases in workload experienced by health care systems, in combination with the continuous stressors associated with the coronavirus disease 2019 (COVID-19) pandemic, have placed a significantly high demand on all nursing staff, leaving many nurses at risk of suffering from clinical burnout. In the article Prevalence of and Factors Associated With Nurse Burnout in the U.S., published on February 4, 2021, in JAMA Network Open, lead author Megha Shah, MD, MSc, Assistant Professor in the Department of Family and Preventive Medicine at Emory University School of Medicine and former Georgia CTSA KL2 Scholar, emphasizes the importance in identifying work environmental risk factors associated with nursing burnout and the implications clinical burnout can have on the future of the U.S. health care system.
To assess nursing burnout, Dr. Shah and colleagues at Emory University used data from the 2018 U.S. Department of Health and Human Services' Health Resources and Service Administration National Sample Survey of Registered Nurses (NSSRN). The study examined aspects of the work environment that may contribute to a nurse leaving the health care workforce, as well as factors associated with a nurse's intention to leave their job and/or the nursing profession. In a secondary analysis of this survey sample data, results found that of those nurses that responded (~50,000 survey respondents), 9.5% reported leaving their most recent position. Of those who chose to leave, 31% referenced burnout as a contributing factor to their decision. Similarly, 43% of nurses who had considered leaving their current job reported burnout as a factor that would influence their decision to leave.
Since the publication's release, it has received significant attention from both the media and the research community. According to the Altmetric Explorer Database that tracks and analyzes online activity around scholarly research, this paper is in the top 5% of all research outputs scored by Altmetric. In the media, the paper has been featured by 46 different news outlets, including stories from CNN News, MSN, and MedicalXpress. It has been mentioned in 60 tweets from 51 different Twitter users, with a combined Twitter follower count of over 270,000 people. In the research community, the paper has been cited by six peer-reviewed articles published in journals such as Journal of Radiology Nursing and Worldviews on Evidence-Based Nursing.
Burnout as a contributing factor to nurses leaving their job has increased over time, reported at 17% in the 2008 NNSRN and growing to 31.5% in 2018. Other top factors contributing to nurses leaving their job were stressful work environment, lack of good management or leadership, inadequate staffing, and wanting better pay and benefits. Nurses have also served as major frontline workers and care providers during the COVID-19 pandemic, placing them at increased risk of experiencing high stress, anxiety, and physical effects related to their job and work environment. Policy makers and health care systems must work together to develop multitiered solutions toward providing adequate support to our nursing workforce to improve their work environment and reduce clinical burnout.
"These are overlapping reasons associated with burnout, but they're actionable places for the health care system. Although we can't reduce hours during the pandemic, there are ways we can make the work environment more satisfactory for our front-line workers. Are there things that could make it less stressful?  Can we improve the staffing? Can we work on leadership, responsibilities, roles, and delineating in a way that supports the whole team?" asks Dr. Shah.
"I'm proud we had a very diverse team working on this project. We had representation from the Emory School of Medicine, Public Health, Nursing, and Emory Healthcare. In early 2020, we were having conversations about how this pandemic is going to take a toll on the people that are doing the hour-by-hour care, our nursing staff," remarks Dr. Shah. "With this recent data, we wanted to take a look at what nurses were reporting even before the pandemic, including how they felt about their jobs and how much burnout was affecting their choices of employment."
Dr. Shah adds that working with a diverse team was also one of the most rewarding aspects of being a Georgia CTSA KL2 Scholar, "My peers all came from different disciplines and different schools across Emory, Morehouse, and UGA. Under no other circumstances would I have been able to interact with such a diverse group of people. While we had different research projects and research interests, we were all in similar stages in our careers. It was nice to have that small cohort as a peer support group within the KL2 Scholars program. We still keep in touch even now."
The goal of the Georgia CTSA KL2-Mentored Clinical and Translational Research Scholars Program is to support and enhance career development for junior faculty (MD, PhD, MD/PhD, or PharmD) from a wide variety of disciplines at Emory, MSM, Georgia Tech, and UGA College of Pharmacy. The Georgia CTSA KL2 Core is committed to assisting junior faculty at partner institutions to become independent, established, and ethical clinical and/or translational research investigators.
The Georgia CTSA is a statewide partnership between Emory, MSM, Georgia Tech, and UGA and is one of over 60 in a national consortium striving to improve the way biomedical research is conducted across the country. The consortium, funded through the National Center for Advancing Translational Sciences (NCATS) and the National Institutes of Health's Clinical and Translational Science Awards, shares a common vision to translate laboratory discoveries into treatments for patients, engage communities in clinical research efforts, and train the next generation of clinical investigators.