A Tribute to Our Colleague and Friend: Dr. Vani Manoharan
---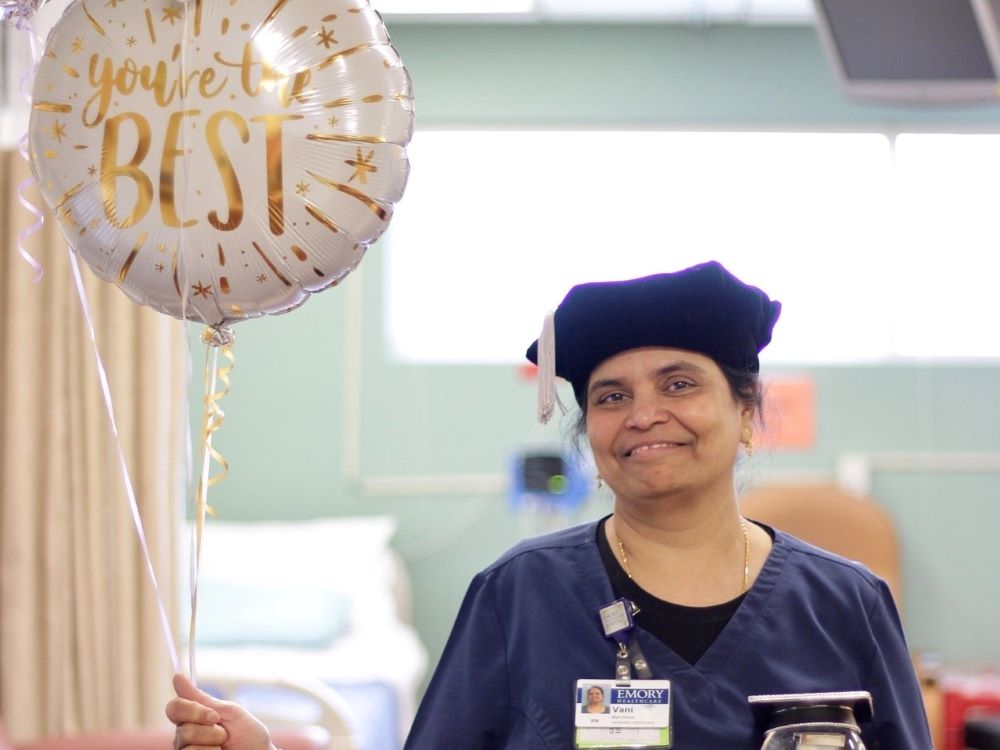 "I feel like this is my home, my second home for me. I'm so passionate about working in this unit." Those are the thoughts shared by Dr. Vani Manoharan, DNP, MSN, RN, in a video when discussing her work at the Georgia Clinical Research Centers (GCRCs).
It is with deep sadness and heavy heart that we share the news of the passing of our beloved nurse and friend. Dr. Manoharan passed away on August 6 at her home surrounded by family. Her funeral viewing took place on August 7 in Stone Mountain, GA, with an outpouring of sympathy from family, friends, and colleagues.
The GCRCs will be honoring our dear friend and colleague in the Winship 5K Run/Walk on October 1, 2022. We welcome you to join team Vani's Warriors or donate now. Winship Cancer Institute holds a special place in our hearts. Serving more than 17,000 patients each year, Winship helps cancer patients throughout Georgia, the Southeast, and beyond by working to prevent, treat, and cure cancer.
"Vani was one of the kindest, caring, and most of all, selfless people that I have ever known. She would always put others before herself and was very concerned about all people. She did not know what it was to tell someone, 'No,' especially if she could help them. Lastly, she was an excellent nurse!" says Angela Mays, RN, Charge Nurse, GCRC at Emory University Hospital.
"Sometimes all it takes is one person to change the life of others. That person was Dr. Vani Manoharan. She was a pillar to all the people who knew her. She was passionate in her service to others, always putting others first. Dr. Manoharan was my role model; the GCRC has lost an irreplaceable contributor. Rest in peace. Gone too soon," remarks Inez Efejuku, RN, Clinical Research Nurse, GCRC at Emory University Hospital.
In 2005, Dr. Manoharan started working at Emory Healthcare's Inpatient Clinical Research Unit and became part of the GCRCs Outpatient Clinical Research Unit staff in 2015 as a nurse clinician, as well as serving patients in the Winship Cancer Institute's Infusion Center. She was promoted to Charge Nurse in 2020 and completed her Doctor of Nursing Practice (DNP) at Grand Canyon University. Most recently, Vani served as Research Nurse Educator, and in the short amount of time in this role, she was instrumental in developing procedures to streamline inpatient research.
"Vani was an integral part of the GCRC and the backbone of the Grady GCRC for several years. Vani and I were so excited about her new role and her being back at Emory University Hospital. Vani's office was just down the hall from mine, and the highlight of my morning was seeing her beautiful smile. We were very fortunate to have her as part of our team," says Rebecca S. Thomas, DNP, RN, Georgia CTSA Nursing Director - EUH, EUHM, and Grady GCRC sites. 
She was an active member of the Georgia Indian Nurses Association (GINA) and served as Treasurer. In 2018, Dr. Manoharan received the GINA Nurse of the Year Award based on excellence in professional practice. She volunteered in the Georgia Association of Physicians of Indian Heritage clinic, participated in health fairs, and conducted community health programs.
"Vani was truly an angel, and she will be deeply missed," adds Dr. Thomas.
Share This Story