Welcome Georgia CTSA 2023-2024 KL2 Scholars
---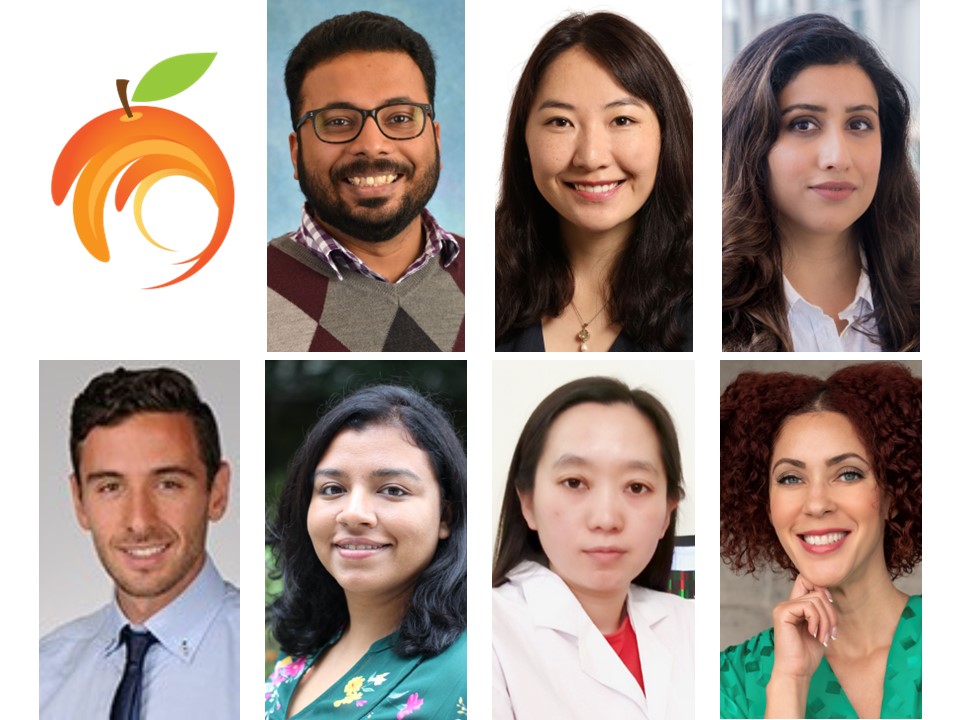 Congratulations to the new scholars in the Georgia CTSA KL2 Scholars Program. The goal of the Georgia CTSA KL2 Program is to support and enhance career development for junior faculty interested in a career that encompasses clinical and translational science (CTS) and clinical and translational research (CTR). The KL2 Program supports career development for junior faculty from a wide variety of disciplines at the Georgia CTSA partner institutions to become independent, established, and ethical clinical and translational science investigators.
Sankaraleengam Alagapan, PhD, is a Research Scientist II in the School of Electrical and Computer Engineering at Georgia Institute of Technology.  He holds a PhD in Biomedical Engineering from the University of Florida. Dr. Alagan's current program of research focuses on understanding how the anterior cingulate cortex (ACC) contributes to effort evaluation in humans. Results from his KL2 project will help fill in key gaps in the understanding of the ACC's role in effort and may lead to novel diagnostic and targeting strategies for altered motivation in patients with neurological and psychiatric disorders. His long-term career goal is to establish a federally funded translational research program that develops novel brain stimulation therapies informed by human brain physiology to treat psychiatric and neurological disorders by restoring impaired network function.
Mandy Bekhbat, PhD, MSCR, is a postdoctoral fellow in the Department of Psychiatry and Behavioral Sciences at Emory University School of Medicine, and she will transition to a faculty role in June 2023. She holds a PhD in Neuroscience and a Master of Science in Clinical Research from Emory University.  Dr. Bekhbat's current research at Emory has focused on the causal role of inflammation on neural circuit and behavioral changes in MD patients with high inflammation. Her KL2 project will investigate the role of monocyte metabolism and migration in inflammation and its impact on reward circuitry in the brain that drives symptoms of anhedonia in people with HIV (PWH). Her long-term goal is to lead an independent translational research program focused on understanding the neuroimmune and endocrine basis of psychiatric illnesses and uncovering mechanisms for novel treatment development.
Puneet Chehal, PhD, MA, is an Assistant Professor in the Department of Health Policy and Management at Emory University's Rollins School of Public Health. She holds a PhD in Public Policy from Duke University.  Dr. Chehal's research focuses on two areas:  quality of care and access in state Medicaid managed care programs; and differences in disease burden, medication adherence, and need for acute hospital care among demographic and socioeconomic subgroups with diabetes in the US. Her KL2 project seeks to investigate if the Affordable Care Act's (ACA's) Medicaid expansion was associated with cardiometabolic disease severity, and how this association could vary across state Medicaid managed care programs. Her long-term goal is to bring the two lines of research together and become an independent health services researcher fully equipped with the skills to build understanding of how state Medicaid managed care program design and implementation affects cardiometabolic disease burden over the life course.
Ezequiel Gleichgerrcht, MD, PhD, is an Assistant Professor in the Department of Neurology at Emory University School of Medicine. He holds an MD from the University of Buenos Aires and a PhD in Medical Neuroscience from Favaloro University in Argentina. He recently joined the faculty at Emory from the Medical University of South Carolina with the goal of focusing his career as a clinician-scientist.  His KL2 project will use natural language processing (NLP), a modern methodological approach, to study human language with the goal of predicting brain health and aging and investigate whether accelerated brain aging is associated with a loss of language complexity during narrative speech. His long-term career goal as a clinician-researcher is two-fold: to further our understanding of the neurobiology supporting higher functions of human cognition, especially language, memory, and social behavior; and to identify biomarkers that can help stratify patients to provide early interventions that change outcomes.
Subasri Narasimhan, PhD, MPH, is a Research Assistant Professor in the Hubert Department of Global Health at Emory University's Rollins School of Public Health. She holds a PhD in Community Health Sciences from the University of California Los Angeles and an MPH from the University of North Carolina at Chapel Hill. Dr. Narasimhan's recent research has investigated intersections between intimate partner violence experiences, health provider and health system interactions, restrictive U.S. state policy, and COVID-19 on sexual and reproductive health (SRH). Her KL2 project will involve an exploratory study to ascertain the components and enabling factors for a triadic intervention focused on strengthening parent-provider relationships to support adolescent girls' use of dual prevention strategies.  Her long-term goal is to become an extramurally funded public health social scientist with expertise in developing, piloting, and testing effective health-sector-involved multi-level interventions to improve the sexual and reproductive health of adolescent girls.
Xiaoyun Wang, PhD, is an Assistant Research Scientist in the Department of Clinical and Administrative Pharmacy at the University of Georgia College of Pharmacy. She holds a PhD from the Shanghai Institutes for Biological Sciences, Chinese Academy of Sciences. Dr. Wang's current research focuses on her interest in pulmonary diseases, specifically identifying novel drug targets to treat patients with acute lung injury (ALI) and severe acute respiratory distress syndrome (ARDS). Her KL2 project will look specifically at TIMP-1 (tissue inhibitor of metalloproteinases 1) levels as an indicator of the severity and outcome of ARDS patients and explore the therapeutic efficacy of TIMP-1 neutralization on LI/ARDS. Her ultimate career goal is to become an independent academic investigator at the University of Georgia developing novel clinical approaches and technologies to help prevent, diagnose, and cure patients with pulmonary diseases.
Leanne Woods-Burnham, PhD, is an Assistant Professor in the Department of Physiology at Morehouse School of Medicine. She holds a PhD in Physiology from Loma Linda University. Since Black men are most likely to be diagnosed with advanced and incurable prostate cancer leading to worse survival rates, Dr. Woods-Burnham's current research focuses to identify and translationally address race-specific biological determinants of aggressive disease. Her KL2 project will use liquid biopsy to investigate whether HER2 expression is positively correlated with West African ancestry to test the hypothesis that African American prostate cancer patients are more prone to HER2+ disease. The results will provide critical data to support a Phase II race-stratified clinical trial to treat African American HER2+ prostate cancer patients with newer, more efficient anti-HER2 drugs. Her long-term research goals are focused on improving bench-to-bedside therapeutic options for men at highest risk for developing lethal prostate cancer.